Revolvers | Semi-Automatic | Ammunition
There are two basic types of handguns, the Revolver and the Semi-Automatic (aka autoloader).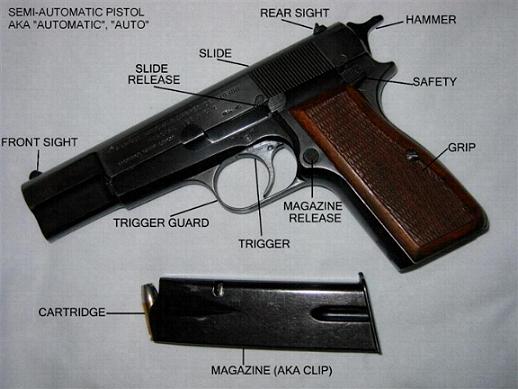 Sometimes the semi-automatic is called an "automatic", but strictly speaking, only "semi-automatic" or "semi-auto" is correct since "automatic" properly refers only to firearms that can fire continuously when the trigger is pulled. These are typically referred to as machine guns. However, "automatic" is very often used, correctly or not, even by knowledgeable firearms users. In fact the longer, more proper term is not very widely used by the sort of people who actually use handguns routinely such as police and criminals. Personally I call them autoloaders and use the term "auto".
Just to save myself a bit of typing, I will use "auto" to refer to the semi-automatic aka autoloading pistol.
An auto has only one chamber, which is an integral part of the barrel. It has no cylinder, and therefore cannot be mistaken for a revolver. (Click HERE for information about ammunition).
Instead, the cartridges are loaded into a metal magazine or clip (technically "magazine" is correct, but "clip" is more commonly used). This magazine is then inserted into the butt of the pistol. The magazine contains a spring, that pushes the cartridges upward for feeding into the chamber.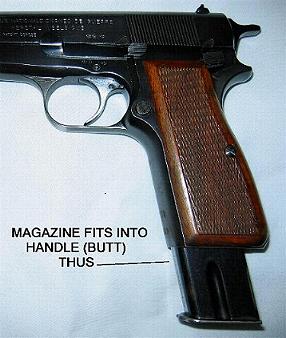 When the auto is fired, the force of the recoil is used to drive back the slide. As the slide moves backward, the empty cartridge case is extracted from the chamber and thrown out through the ejector port. The rearward force of the slide also cocks the hammer.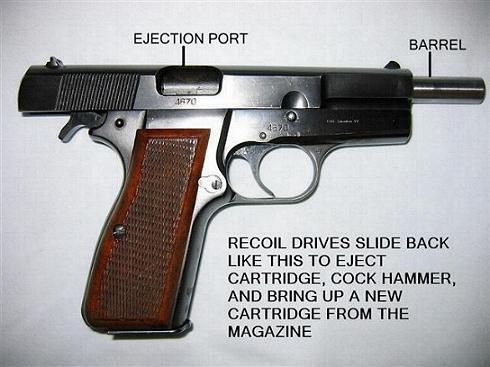 (Some autos such as the Glock and Springfield XD do not have hammers, but use a spring-loaded firing pin, like a rifle. The basic principle is still the same.)
Next the slide is pushed forward by the pressure of a powerful spring. As it moves forward, it picks up the top cartridge in the magazine and pushes it into the chamber.
Depending on the power of the auto, it may also be locked into place by some mechanism. Once the slide stops moving, the pistol is ready to fire.
At this point the hammer (or firing pin) is cocked; a simple pressure on the trigger will cause the pistol to go off. When cocked, autos require very little finger pressure on the trigger (typically about 5 pounds). For this reason, most autos of older design do have safety mechanisms of some sort.
In recent years the trend has been toward auto pistols that do not cock themselves in this way, but have to be fired double-action, like a revolver or have a firing pin mechanism.
Here is a video of how to load an autoloader.

How to Load a Semi-Automatic Handgun
Revolvers | Semi-Automatic | Ammunition